timeline – simmons | nus | industry | ntu | tna | growing up
MY UNIVERSITY IN EQUITORIAL SINGAPORE
Jul 1995 – May 1999 Bachelor of Applied Science (Computer Engineering) – Honors (2nd Upper), Nanyang Technological University (NTU), Singapore
SIA/NOL 100% scholarship for undergraduate studies in Singapore (1995-1999)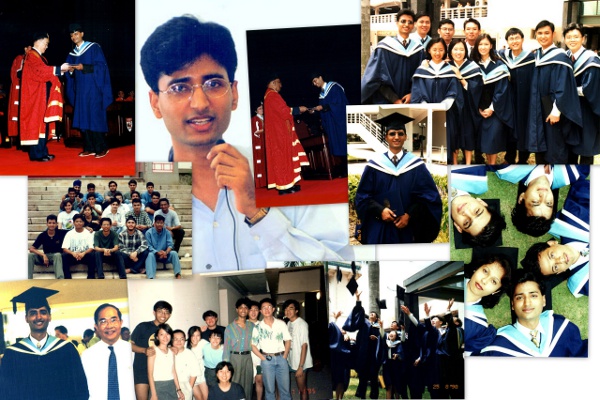 As one of the world's largest engineering colleges with 14,000 students and 1,600 staff, Nanyang Technological University(NTU)'s academic and research excellence has helped place it among the top 10 science and technological universities in Asia.
I was in NTU on a scholarship sponsored by Singapore Airlines-Neptune Orient Lines for Undergraduate studies in Singapore. I was enrolled in the Computer Engineering Course in the School of Applied Sciences, studying towards the degree of Bachelor of Applied Science. I graduated with Honours.
The four years in NTU were memorable, filled with loads of fun in between exam-times of stress.
MY UNDERGRADUATE LIFE
SIA/NOL SCHOLARSHIP
Getting to know / Applying
I had never really imagined that I would be studying outside India, nor did I really crave for it. I think it was just meant to me.
One day around Jan/Feb 1995, my elder brother Ajay picked up a book from Community Centre Library and borrowed it for me. The title was, "Scholarships for Study in India and Abroad". Those days I was preparing for my ISC (Indian School Certificate) pre-university examinations.
I casually looked through the book and liked what I read of a few scholarships. One that I found interesting was a 100% scholarship for undergraduate studies in Singapore in Science/Engineering/Computers that came with a 6-year bond. Candidates were to have excellent scores in Classes X, XI and XII and be good in extra-curricular activities. The scholarship was co-sponsored by Singapore Airlines and Neptune Orient Lines. Applications were to reach the Singapore Airlines Robinson Road address by April of that year.
I was mulling over the time and effort it would take to apply, when each day was important towards my exams. Plus, it seemed far-fetched. It was then that I visited Siddhartha. I showed him the book and the page on SIA/NOL Scharships. He said, "This scholarship is meant for you. There cannot be a more suitable candidate. You MUST apply for it."
Encouraged by his words, I spent the next 2-3 days in making sure I prepare my application well. Ajay daju helped me prepare a type-written 'bio-data' (didn't know the word resume then). I photocopied all my important certificates and got them attested by the TNA Principal. I even included photographs of my paintings and craftworks. A nice thick application, with a postal charge of Rs 200-300 (huge, considering a post within India cost Re 1 or Rs 2) made its way to Singapore.
One or two months after the application, Mr SK Pandey, my Chemistry teacher in TNA, gave me a newspaper clipping showing an advertisement of the same scholarship. Mr Pandey, a veteran long distance runner who used to run 5 kms a day at the age of 55 in 1995, still believes I applied from the clipping he gave me. He proudly tells this to anybody I'm with, whenever we meet in Gangtok 🙂
I had applied and forgotten. There were the ISC in March, Rajasthan Prefects' Tour in April, my trip to Delhi in May to give the DCE/BIT Mesra exams. On May 29, I took the train back to Gangtok from Delhi.
Shortlisted
On June 2, I received a letter telling me that I have been shortlisted for an interview and two short tests at the Taj Bengal, Calcutta on June 8. I couldn't believe it. It was too good to be true. I thought I had to do my best in the interview. Ajay daju suggested I make a new formal sky-blue shirt and trousers for the interview. I did. I reached Calcutta on 7th morning.
The Interview / Tests
– Getting to know Kunje chachaji's family
– Discussing possible questions with Chitra
– The interview at Taj. Form filling. Being dropped in the mercedes.
– Two short tests. Miss Ong. Reimbursements/passport
– Unofficial news of the offer from Miss Ong
– Happiness or disappointment
– Chachi's suggestion
Computer Science in NUS Vs Computer Engineering in NTU
– Going back next morning
– Happy: Computer Engineering in NTU
COMING TO SINGAPORE
Passport Pains
– Long queues
– Happier getting the passport than getting the scholarship
– Back home for a few days
First flight / First trip abroad
– Preparing
– Meeting Prateek, Parimal, Ranjot and Gagan at Calcutta airpot
– Landing at Changi: flabbergasted
– Bus trip from Changi to NTU
ORIENTATION / IG CONCEPT
– Chris at Hall 4 Gate
– Carrying Vasu's luggage
– IG Concept
– Bharat Mata ki Jai / Mahatma Gandhi ki Jai
– Questions round
– 18 girlfriends – running on the SRC tracks
– Fresher's Night
– Baaja Parties
– Hall 4 Orientation
UNDERGRADUATE YEARS
– First Year
– Second Year
– Third Year
– Honours Year
— as written in 2004