paintings-journey-exhibitions – oil | watercolor | acrylic | pencil | charcoal | pastel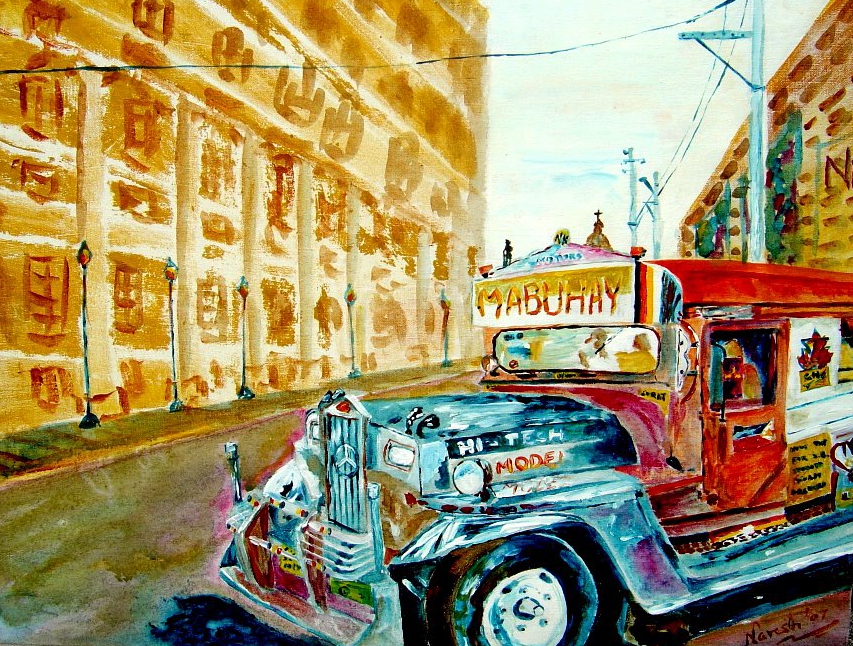 Click on painting for higher resolution
My description of the painting at the ASEAN reception in Singapore: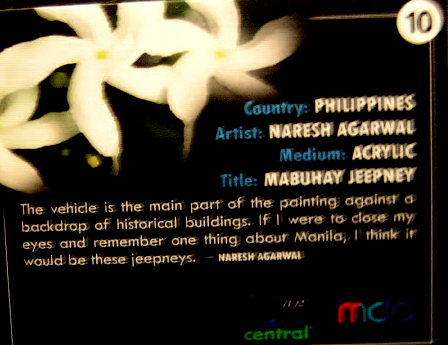 This was my first painting done on camera. I had never painted in acrylic before. I was paired with a professional acrylic artist and we were flown to Manila, Philippines from October 5-7, 2007 for a painting trip titled the artist and the apprentice. We both, along with the cameramen and the crew, spent an afternoon in recce (reconnaissance) gathering our inspirations of Manila. We took a lot of pictures and decided to paint from photos. The next morning, we started early morning at 6:00pm, both painting individually by the hotel swimming pool. I finished my painting by 4:00pm and named it Mabuhay Jeepney.
See the photos of the painting process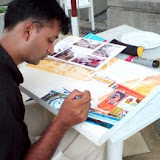 The show "Traveling Palette – ASEAN special" was telecast on Mediacorp TV12 (Singapore television channel).
Back in Singapore, a reception was held for all artists in the TV series, and the paintings auctioned for ASEAN – the Association of South East Asian nations. I priced my painting at $1800. The money was to go to charity. The painting was listed for auction at the ASEAN media portal.
This was the information listed in the ASEAN Secretariat website, "The Travelling Palette – ASEAN Special is a 10-part arts-travelogue series which follows a different artist-apprentice pair each week as they journey to various locations in an ASEAN country, seeking out an iconic site to inspire their paintings. In support of AMRIण8364;™s goal of advancing a caring and sharing community through media, the paintings featured in The Travelling Palette – ASEAN Special will be auctioned off in benefit of the ASEAN Foundation. The auction will begin on 16 November and silent bids can be submitted via the ASEAN Media Portal from 23 November 2007 to 18 January 2008. The Travelling Palette – ASEAN Special, which is a Singapore public service broadcast programme supported by MDA and produced by Singapore company, Editude, made its debut on the Singapore terrestrial channel, MediaCorp TV12 Arts Central on 12 November 2007 (9.30pm)."
Video of my audition for the role: