paintings-journey-exhibitions – oil | watercolor | acrylic | pencil | charcoal | pastel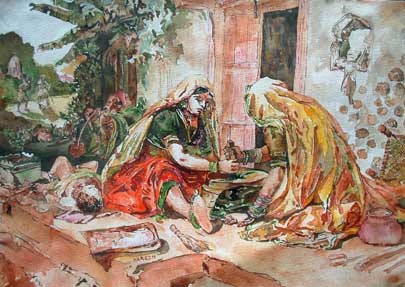 This water colour is based on the work of William Simpson (India as seen by Simpson 1860-61). I love the vibrancy of Rajasthani colours – the desert land my ancestors hailed from. Not too long ago, my grandmother wore similar dresses. We still have one such rice mill at our home in Gangtok, India.
The title, 'Endless Grinding' signifies the lifelong housework which a typical Indian homemaker indulges in, without any expectation of reward or benefit.
I painted this during my second year in NTU, Singapore (Industrial Attachment days – working with Hewlett Packard).
The date signed is 14 Jan 1997.
The painting also won me the 1st Prize during 'Perceptions and Expressions' organised by the School of Applied Science, NTU.
The original 1867 work by William Simpson is titled, Women grinding corn. The medium is chromolithograph. This is the description at the online gallery of the British Library and Europeana: "This is a chromolithograph of plate 12 of William Simpson's 'India: Ancient and Modern'. The laborious task of grinding corn in India was always performed by women, using two large flat circular stones. The upper stone had a handle for turning and a hole through which corn fell on to the lower stone, where it was crushed."