paintings-journey-exhibitions – oil | watercolor | acrylic | pencil | charcoal | pastel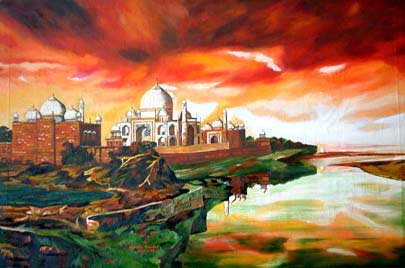 Many of you have seen this painting in various stages of completion and have contributed to it in one way or the other. Though nothing out of the ordinary and with less than a month's painting time, it was completed over a span of 5 1/2 years and ended up travelling quite a bit.
It started its journey in June 1997 from India (Sikkim to Calcutta) to Singapore (1997: NTU Hall 6, 1998: Hall 8, 1999: 90 Tanjong Katong) to Hong Kong (2001) to California, USA (2001) and then back to Singapore (2002: 90 Tanjong Katong, Normanton Park) where it finally saw the light of the day.
India – 8-10 days of painting time
The canvas was prepared by Mr. Sirdar Abdullah Khan and presented by his son Reza to me on my birthday in Sept 1993 (positively…or 1994)
The canvas lied behind my clothes in my wardrobe for years until I went home for vacation after NTU 2nd year and started the Taj Mahal on it
1997: It was the 50th year of India's independence and I wanted to contribute something in my own way – thought of painting the Tricolor with something very Indian in the centre.
Inspiration from a Nigel Hicks photograph of the Taj Mahal at sunrise (India, Toby Sinclair) – book borrowed from Devraj daju/Ingchuk while I was visiting Sanjog in Gangtok
Painting started at Anita didi's place on June 18 and continued in Ajay daju's room
A carpenter in Gangtok made a wooden frame for Rs 200 (S$8)
A well-wrapped canvas with the Taj and the orange sky travelled by bus through a landslide-hit route from Gangtok to Siliguri, by train (I think) to Calcutta and by air to Singapore
Singapore – 9 days

Painting aids presented by Prateek, Vasu, Lodha: copy of Toby Sinclair's India and an easel
The mosque at the left was painted in Hall 8 (1998-99) (2 days)
Hong Kong – April 2001
During my 2-day stopover in
Hong Kong, the Taj went from the airport to Parimal's and Pranay's
place in Kowloon island.
I went through one of the toughtest
PR-exercises convincing the SQ-staff to take the painting on board
in a full-flight to San Francisco
Santa Clara, California, USA
The painting remained in the
Patricia Drive guest house until after the Sept 11 attacks in New
York
When I left for Hyderabad in
September last week, Pallavi and Puneet became its custodians and
kept it safely with them
Singapore – October 2002 (5 days)
Puneet and Pallavi drove to
Fremont to deliver the painting to Vivek Vedagiri, who carried it
to Singapore in his luggage
It remained in Tanjong Katong
until November 2002, after which I moved it to Normanton Park
In Jan 2003, when Sony didi
stopped over in Singapore on her way to Prateek's wedding, told
her that it'll be finished soon
The last person to see it in
its dormant stage was Sien Hong I guess
Finished it over five days in
January
Harry, Shin Ye and Andre were
the first critics
What started at Anita didi's
and Kamal jeejajee's place got completed on their 10th wedding anniversary
– 28 Jan 2003