Note the first: this was originally posted on amberstubbs.net, on a blog that no longer exists.  Republished here for posterity, and also because I still think it's kinda funny -- AS
Note the second: I am given to understand that Lush is fully aware of the implications of their slogan, but that won't stop me from overanaylzing it for fun.
Episode 2: Fighting Animal Testing Fighting Animals
Disclaimer: I really like Lush cosmetics.  Their products are really gentle, smell amazing, and they are committed to being eco-friendly.  More importantly, they have a bath bomb that's shaped like a rocket ship, and it zooms around the tub while it dissolves.  (Priorities: I have them.) (Note: that bath bomb has been discontinued since I first posted this. Sadness. -- AS)
I'm not here to peddle Lush products, I just want to make it clear that the rest of this post isn't coming from a desire to tear the company down.  I just can't ignore this any longer.
Here is a picture of a bag I recently got from Lush: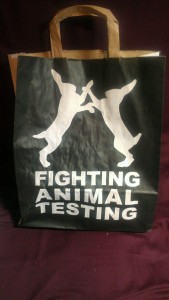 Yes, that's a picture of two rabbits trying to smack each other, with the words "Fighting Animal Testing" underneath.  Unfortunately for Lush, there are two possible interpretations here: