It's Show and Tell time at Wheelock's EARL Center
Join NEASIS&T and Simmons Student Chapter for our March Meet Up.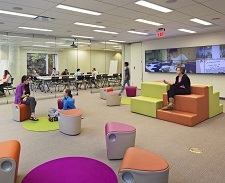 Mare Parker O'Toole, Assistant Director of  Earl Center for Learning & Innovation, will be showing us their new and exciting educational technologies.  They have an active makerspace and resource center.  This makes for a rich experience to research & practice your inner child and professional interests.
March 31st-

Tuesday

Arrive early at

5:30 pm

for networking and snack break

Bell rings around

7:30

(with a half hour built in for questions, networking, and more food)

Feel free to come late if need be!  We will not mark you tardy
(10 min walk from Simmons)
Easy walking distance from C, D, and E green lines. Closest to the Fenway stop of the D-Line. Next to the Wheelock Family Theatre