Over the past few months, Unbound has investigated artist residency programs in academic libraries, public libraries, and archives. Today we'll be capping off this series with a visit to the world of special libraries.
G39 is an artist run non-profit located in Cardiff, Wales. They host a gallery space and provide resources and services for local artists through their Wales Artist Resource Programme, also known as Warp. Warp has an on-site library that collects books, periodicals, and other materials that can be of use to their artist patrons. The library also functions as a quiet workspace and a setting for events and workshops.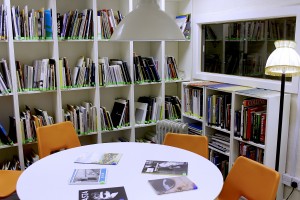 After a major move allowed g39 to establish a dedicated space for their library, they decided to use it as a platform for a new artist-in-residence program. This program would "develop the library as a resource and enliven its use." G39 would provide the artist with a working space, full access to the library's resources, an exhibition space, and the guidance and support of the staff. In return, the artist would create works and events that highlight the collection, generate library activity, and promote the use of its resources. G39 does not employ a librarian, but does recruit volunteers to assist with cataloging, labeling, and shelving the collection. Their library artist residents are able to direct higher-level operations and initiatives for the library that would be outside the scope of regular volunteer work.
G39's residencies are twenty days long, with a £1000 stipend provided. The artists are given leeway to come up with their own initiatives and spend their time in the ways they feel are most productive, while staff provides feedback and assistance. At the end of the residency, the artist presents the outcomes of their projects. Past artists in residence have presented work that helps the library to "see the shelf content in new ways," and "examine how it works with and presents its collection."
Their first library resident, Laura Jane Reeves, collaborated with g39's writer-in-residence at the time, poet Rhian Edwards. Together they hosted a series of talks and seminars related to themes like art writing and self-publishing. Their residencies culminated with an exhibition called There Will Be Words, which "took the library as its locus by inviting artists whose practices engage with aspects of publishing, writing and archives." Reeves' most significant creation from her residency was an artist book titled How to Start a Collection, inspired by items in the Warp Library collection and including two poems by Rhian Edwards.
For their second residency a year later, they brought on local Cardiff artist Louise Hobson. She made the central theme of her residency the idea of trade routes:
Libraries universally exist as spaces for exchange between human beings; most obviously between the reader and the writer/artist. As this project is an exploration of the idea of exchange, the Warp library is the perfect space to research, explore and initiate these ideas. (Louise Hobson)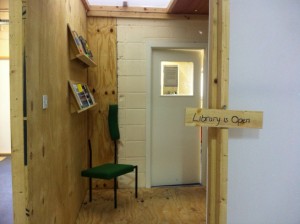 As part of this exploration, she put out a call for publications, requesting donations to the library's collection from around the world. Donations had to be of some value to the donor, connected to a known place in some way, and include an enclosed note with the donor's reason for sending it. All donated publications were added to a new, dedicated section in the library, "a people's library, within a library." Selected donations were shared online, and then added to the library's permanent collection.
Hobson also started a series of weekly events she called the Breakfast Club. On Saturday mornings, Warp would open their doors to the public for a breakfast. This allowed staff, artists, and other visitors the opportunity to meet, catch up, and have informal conversations. As Hobson put it, "these types of conversations are usually snatched at an opening or an event and often don't have the space or time to go beyond mere formalities. Ideas are being discussed, projects are being shared and plans are being made." These events were a great success, and Warp is still hosting them today:
We're back @g39cardiff this week for Breakfast Club, joined by Assemble. Come down and join the conversation.

— WARP (@_warp) November 21, 2015
During her residency, Hobson organized an art walk, tracing the path of Cardiff's town wall and comparing its current state to a 1610 map depicting it in its prime. The event inspired her publication for g39, The Wall, a reader. The book reflects on the wall's place in history, and the gulf between Cardiff as it existed then and as it is now.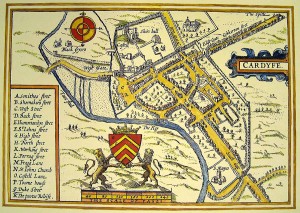 G39's third and most recent resident, Helen Clifford, came on board in January 2015. Her residency focused primarily on bringing a new cataloging methodology to the Warp library. She'd had prior experience working as a library assistant at the Cardiff School of Art & Design, and she used the knowledge she'd developed there to really delve into the organization of the Warp library's collection. G39's announcement of her appointment put it well:
For her residency in the Warp library Helen Clifford is examining new and alternative ways of classifying books. The standard classification systems (Dewey, Library of Congress Classification and The Dublin Core) are historical, political and entrenched. With reference to these systems, Helen will identify a personal perspective within their confines. She will explore book definition and interconnections within the Warp library, generating an individual set of procedures that define and examining links of themes, approaches, concepts, places and people. (Warp Bulletin 01/2015)
As part of her project "Threads and Strands," Clifford held participatory readings and discussion groups, allowing the community to provide ideas and feedback on how the library's collection could be both catalogued and weeded to best serve them. She also organized research trips to other Cardiff-based libraries and archives to explore their methods of classification.
After her residency ended, Clifford stayed on as a volunteer, continuing her project of organizing the Warp library. During this phase of the project, she held an event called "Take all the Books Out," during which the library's collection was taken off the shelves and into g39's gallery space, where visitors could discuss and decide which categories they belonged in. In a library serving the unique, tightly-focused demographic of local artists, she worked with them to develop uniquely suited methodology. She has had a major impact on the ways that the library thinks about and works with its collection.
G39 is currently preparing for their fourth library residency. They recently put out a call for applications that listed the following goals they'd like their next resident to pursue:
-Make the Library more visible to visitors to the gallery and Warp users.
-Building a relationship between the specialist interior world of the Library and the outside world.
– Making use of the Library as a platform for events and activity.
Their next residency begins in January 2016 and will run through to March. To keep track of their progress and the work that will result, check out Warp's website!
——
This marks the end of Unbound's series on Artist Residencies in Libraries and Archives. Stay tuned for our next exploration of new and developing phenomena in the library world!
——
(Post by Derek Murphy)