In January of this year, Simmons College hosted an IMLS-sponsored conference called "Envisioning Our Information Future and How to Educate for it." There, notable librarians and information professionals conversed about future paths for the field. One popular subject of discussion was the potential for artist residencies to become more common in information institutions. Over the next several weeks, Unbound will be investigating case studies of successful artist residencies across various types of libraries and archives. Today, we'll be taking a look at a successful residency program at a forward-thinking academic library.
---
The University of Technology, Sydney (UTS) hosts a yearly artist residency they call the Artist-In-Residence Program. During a time of major transition for the library, they hoped that bringing artists into their space would assist them in "injecting playfulness, art, and culture into all aspects of the Library's operations" and "ensur[ing] the ongoing relevance and development of a dynamic library into the future."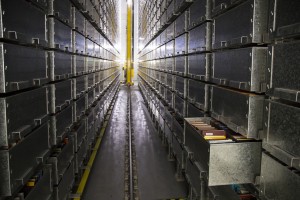 The creation of the residency program was precipitated by a major operational shift for the library. In 2012, the UTS Library installed an automated storage and retrieval system (called the Library Retrieval System, or, LRS) underneath its library. In order to ease space constraints, books were transferred from the library stacks to efficiently packed metal bins stored in an underground facility. Upon a patron's request, a robotic system retrieved the books from storage.
This system was a great success, but it raised concerns about discoverability. Though the most frequently used parts of the collection were still shelved in open stacks, it was suddenly much harder for patrons to stumble upon books they didn't know they were looking for. In response, the UTS Library convened an advisory panel of academics and art curators to select an artist who could bring his unique skills and design sense to bear on the problem. Their choice? Visual Communication Design specialist Chris Gaul.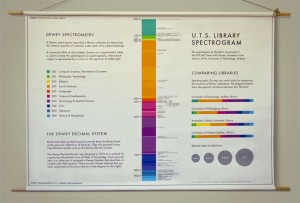 Gaul, their first resident artist, created a set of art installations themed around discoverability. The Library Frequency Tuner, a modified radio tuner, allowed patrons to use a dial to scroll through the full spectrum of Dewey numbers and listen to associated audio excerpts of books from the collection. The Call Number Telephone allowed patrons to dial a Dewey number and hear a reading from a random book associated with that number. The Library Spectrogram beautifully visualized the collection as a colorful, easy to read diagram. The Spectrogram originally took the form of an educational wall chart. After it was exhibited, the library then integrated it into their online catalog search as an interactive tool for discovery. This tool, the Collection Ribbon, is still in use today. Gaul's residency culminated in an exhibition at the on-campus DAB LAB Research Gallery.
Gaul's residency provides an excellent example of the benefits an artist residency program can have for an academic library. The residency resulted in a successful gallery exhibition, new opportunities for patrons to engage with the library's organizational systems, and elegant, concrete operational improvements to those systems.
Following the success of Gaul's residency, the library has continued to host yearly residencies to this day. Successive residents have created dynamic installations, developed audio poetry inspired by the collection, and investigated the concept of the 'book' in the digital age.
---
Stay tuned for our next post, where we'll discuss the Madison Public Library's innovative approach to public library artist residencies!
And below, please enjoy these videos of some of Chris Gaul's work from his UTS residency.
---
---
(Post by Derek Murphy)