2021 Sweater Ceremony
LISSA and SLA@Simmons will be co-hosting an event to commemorate 2021 graduates. Join us on Friday, April 30th at 6:00 PM EDT for an evening of celebration.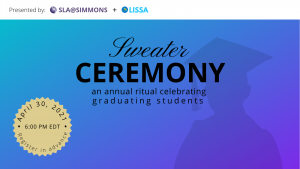 Register in advance: https://forms.gle/KC59rw26DW6WS7wCA
---
Resume Revamp
We'll be hosting a number of LIS professionals at our resume review workshop on Tuesday, March 23rd. There will be two sessions to join at 6:00 PM EDT and 7:00 PM EDT. You'll have the opportunity to work one-on-one with professionals to receive feedback and advice.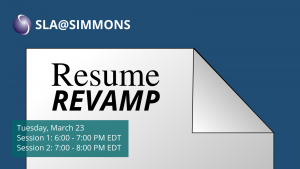 Register to reserve your spot: https://forms.gle/P7JDUUqbEeSS6Ukw7
---
Spring Welcome Meeting
Attend our first meeting of the Spring 2021 semester on Thursday, February 4th at 5:00 PM EST. This open meeting will provide the opportunity to learn more about the SLA student chapter and help plan future events. If you are unable to attend, please email us with any ideas for activities you would like to take part in this semester.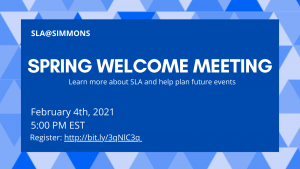 Register to receive a Zoom link: https://forms.gle/qbmfGowrbBNrUFqK6
---
Art Library Tour
Join SLA@Simmons for a tour of the library of the School of the Museum of Fine Arts! Experience this unique library setting and learn how they cater to their diverse student population from our tour guide, Research and Instruction Librarian, Ashley Peterson.
Spots are limited, so sign up today!
We will meet in the lobby of the Palace Road building at 9:45, and then take a short walk over to the SMFA together.
Please email sla@simmons.edu if you have any questions.
---
Day on the Job
Day on the Job (DOTJ) is a popular program enabling students to meet with practicing LIS professionals and to learn more about working in a special library environment. The program has proven to be highly to students in the past as they explore different types of work situations and possibilities and, in some cases, it has had a direct impact on a student's careers.
DOTJ does not consist of a particular day or format, rather date and time can be negotiated between the student and host. The format could be a day-long job shadow, an interview, a library tour, or in-depth conversation.
To sign up please email SLA NE Student Relations Co-Chairs.Jill Aberdale (jillian.aberdale@gmail.com) and / or Katie Glasoe (glakat210@gmail.com) by October 1st, 2017. Once you have been matched with your host, an email introduction will be sent by the second week in October.
---
SLA New England Fall Conference
Date: Friday, October 13th
Time: 8:30am to 4:30pm
Location: Conference Center at Waltham Woods, 860 Winter Street, Waltham, MA 02451
View more details and RSVP by Wednesday, October 4, 2017 at https://slane2017fallcon.eventbrite.com
Registration for students is $45!
This year's conference theme is Incremental steps toward the development of essential skills and collaborative partnerships.
With constant change in user's information needs and expectations, this conference will address these questions:
What are the essential soft and technical skills librarians and information professionals need?

What are potentially disruptive technologies that may have significant impact on how we work?

How can we develop collaborative partnerships with our peers and vendors to support our user's needs and expectations and develop essential skills?

Are there ways to anticipate change and have a plan to pivot your career path?
CONFERENCE SCHEDULE   (Note, they are still adding sessions, presenters, and descriptions)
8:00 a.m. to 9:30 a.m: Registration
8:30 a.m. to 9:30 a.m: Breakfast | Breakfast Activity - Evaluating Our Partnerships

9:30 a.m to 10:00 a.m.: Welcome | Conference Overview
Presenters: Joy McNally Brandow, President of SLA New England and Barbara Williams, SLA New England, Fall Conference Chair

10:00 a.m. to 11:15 a.m.: Panel Discussion: How are the skillsets necessary to run today's libraries changing the nature of librarianship? Perspectives - Educators vs. Employers
Moderator: Anne Graham, Civil and Environmental Engineering Librarian and GIS Liaison, MIT

Presenters: Eileen Abels, Dean of Simmons School of Library and Information Science and Chris Bourg, Director of MIT Libraries


11:15 a.m. to 11:30 a.m. Break

11:30 a.m. to 12:45 p.m.: Panel Discussion: Partnerships & Disruptive Technologies
Moderator: Kim Maxwell, Electronic Resources Management Librarian, MIT

Description: When a new technology is born, how do relevant stakeholders come together? How do we nurture the new technology, shape it, and bring together different parts of our ecosystem to make it something truly great? This session will discuss several new technologies and how librarians can create partnerships with technology providers to help shape them.

Presenters: Christopher Spalding, VP, Open Source Platforms and Communities, EBSCO Information Services and Jesse Koennecke, Director of Acquisitions and E-Resource Licensing Services, Cornell University


12:45 p.m. to 1:45 p.m. Lunch


1:45 p.m. to 2:45 p.m. Session: Essential Skills & Changing Roles
Moderator: Maureen Festa, Senior Research Analyst, Office of Prospect Research, MIT


Presentation 1: The Art of Deduction: Business Analysis approaches for librarians
Presenter: Christine Quirion, Head, Technology Planning, Integration, and Experience, MIT


Presentation 2: BI? CI? MI? A holistic look at data analysis
Description: Business intelligence, market intelligence and competitive intelligence are all separate methods of analyzing data using unique sources. What are the differences and what would a holistic analysis look like? Participants will have an opportunity to practice what they learned.
Presenter: Jennifer Swanson, MLS, MBA and PMP


2:45 p.m. to 3:00 p.m. Break


3:00 p.m. to 4:00 p.m.: Session: Tactical Alliances – Are the right people @ the table? - Use Cases
IP Filtering is Dead. What's next?
Description: IP filtering as an authentication method has led us into a technological cul-de-sac. This presentation highlights problems associated with IP filtering, and the work publishers and subscribers need to engage in to chart a new course. The RA21 initiative is an example of how vendors and subscribers can work together in an open process, to find a way forward.
Presenter: Rich Wegner, E-Resource Systems Manager, MIT


4:05 p.m. to 4:30 p.m.: Conference Wrap Up - Documenting the Path Forward with Zines
Presenters: Rhonda Kauffman, Bibliographic Metadata Associate, MIT and Bridgett Pride, Simmons LIS Student
Follow Conference Updates on SLA Connect - SLA New England Community, Twitter with #slanefall2017, and Eventbrite https://slane2017fallcon.eventbrite.com